All you need to know about who's exhibiting at GeekFest 2019.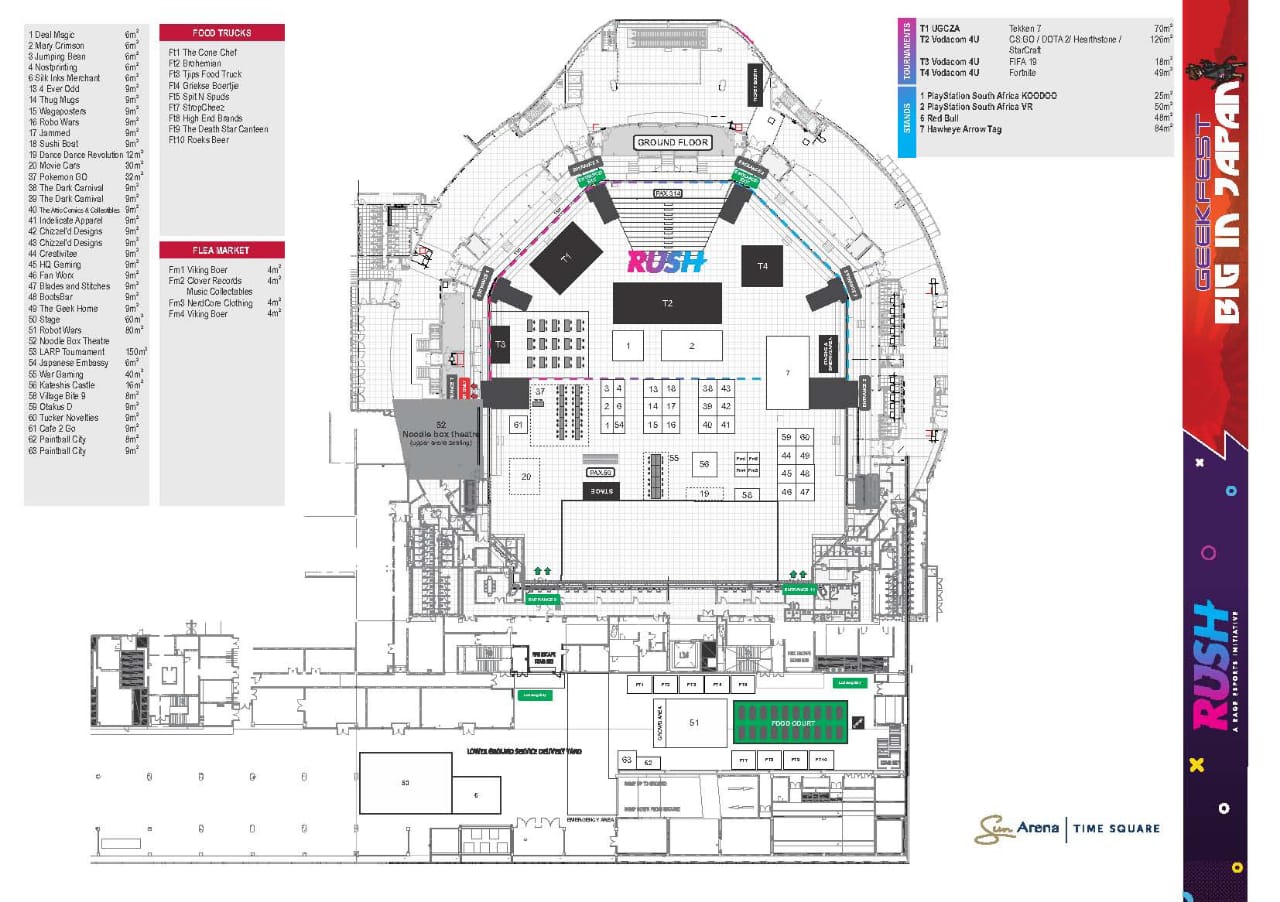 Retail Stands
The Dark Carnival
info@nulldarkcarnival.co.za
All sorts of merchandise and memorabilia spanning a variety of fandoms and genres.
Chizzel'd Designs
sales@nullchizzelddesigns.com
Custom made mugs, clothing and other merchandise all printed with original artwork.
4Ever Odd
mailing4everodd@nullgmail.com
Art Agency, which promotes South African artists and writers under the brand of 4Ever Odd. We do so by selling: Merchandise, Limited editions, Novels and original art works
Blades And Stitches
garrena@nullHotmail.com
Knives, Swords, Martial Arts equipment, and Self-defense goods and geek themed Key Rings
Creativitee
raisinmanack@nullgmail.com
Fandom themed merchandise including Tees, Caps & Hoodies
Fan Worx
fanworx@nullgmail.com
Movie memorabilia, custom stainless steel, custom wallets, figures and key chains
Indelicate Apparel
marco@nullubano.co.za
Comfortable and funky leggings and shirts
Jammed
maretha@nullremaxsa.co.za
Fantech gaming gear, including headsets, mice, keyboards and gaming chairs
HQ Gaming
jarcque@nullhqgaming.co.za
BoardGames, Dungeon & Dragons, Magic: The Gathering, Gaming Supplies and Funko Pops
Otakus D
Otakusd@nulloutlook.com
Anime related Posters, keyrings and plush toys
The Attic Comics and Collectibles
warrena.raison@nullgmail.com
Pre loved comics, figures, legos, statues, swords, pictures, trading cards, and many other geeky products and merchandise.
The Geek Home
info@nullgeekhome.co.za
Comic books, Boardgames, Action figures.
Thug Mugs
virtualsand@nullgmail.com
Geek Mugs, glasses and plushies
Tucker Novelties
sales@nulltucker.lol
Mystery, Fantasy and gothic collectables, steampunk accessories, gothic and dragon jewellery, hand painted quality collections
Wagafa Posters
wagafaposters@nullgmail.com
Marvel, DC and music posters, blocked on wood and stickers.
Chris Cross
leballochristian1000gp@nullgmail.com
Children's toys and lights
Jumping Bean
zanele@nulljumpingbean.co.za
T-shirts and mugs, Computer boards, connectivity hardware, IT Courses, Cyber Security Hardware.
Mary Crimson
marynrood@nullgmail.com
Handprinted t-shirts with a dark romantic theme and black humorous twist. Mary Crimson™ Meow themed beanies. Ragdoll wrap skirts. Stainless Steel pendants.
Notsprinting
lizzydp@nullhotmail.com
We cut and engrave a range of products from materials such as wood, Perspex, glass and leather. Some of the products we will offer at Geekfest include dice towers, vinyl clocks, coasters, jewelry, gift sets and keychains – all of which with custom and unique designs in a variety of pop culture themes.
Silk Inks Merchant
angeliquev13@nullgmail.com
Fantasy and geek themed clothing and jewelry, geek art prints and art merchandise (mugs, stickers, badges, etc), handmade plushies and sculptures
NerdCore Clothing
meerman@nullgmail.com
Bleach t-Shirts with different themes like games, movies or anime pictures or slogans on.
Viking Boer
prjewwllery@nullgmail.com
Handcrafted pewter jewellery